Braddock (Year 3/4)
Welcome to Braddock Class
It has been lovely to welcome the children back into school. We are looking forward to learning and working together this term.
You can follow along with our learning journey through Braddock classes's Twitter account:
Class Twitter: https://twitter.com/BraddockClass
Curriculum Overview Spring Term:
Maths
In Maths, both Year 3 and 4 will have a strong focus on multiplication and division. Year 3 need to become secure in 2,3,4,5,8 and 10 times tables. Year 4 should be secure in all times tables up to 12 x 12.
Later in the term we will focus on length and perimeter and fractions.
Year 4 will be learning about decimals while Year 3 children will be learning about mass and capacity.
Times tables:
By the end of Year 3 children are expected to have learnt their: 2,10,5,3,4 and 8 times tables. In June each year, Year 4 children are tested on their 2,3,4,5,6,7,8,9,10,11 and 12 times tables. Please continue to practise recall of multiplication facts at home and use these websites to support your child with their learning: Times Table Rockstars and https://www.topmarks.co.uk/maths-games/hit-the-button
English:
Poetry - Poets by the Same Author
We will be studying poems by the same poet with a focus on Michael Rosen. We will be looking at narrative and rhyming poems. Some of the poems we will use are: The Dump, The Cupboard, Behind the Dustbins and These are the Hands.
Alternative Fairy tales
After half-term, we will enjoy looking at Fairy Tales from a new perspective; the Wolf's version of the Three Little Pigs is quite a different story... We will revise dialogue punctuation and use of the perfect form.
Theme of Daily Life Stories
Finally, we will look at stories on the theme of daily life. We will meet the engaging characters in Atinuke's No.1 Car Spotter and Anna Hibiscus and enjoy stories of their daily life. We will revise speech punctuation and verb tenses as well as create characters and write a story modelled on those read.
Geography - Misty Mountains, Winding Rivers
We will be learning about that characteristics and features of rivers and mountain ranges around the world, including a detailed explanation of the ecosystems and processes that shape them and the surrounding land.
Science - States of Matter
We will learn about solids, liquids and gases and their characteristic properties. We will observe how materials change state as they are heated and cooled, and learn key terminology associated with these processes.
Grouping and Classifying
We will learn how to group living things, known as classification. We will study animal and plant kingdoms to use and create classification keys to identify living things.
Art
In Art, we have developed our use of watercolours and next half-term we will be focusing on sketching and shading animals.
Music
The children are learning to tell stories through music.
DT
In DT we have developed our cooking skills, making vegetable crisps. Later this term, we will be developing our sewing skills through embroidery.
Computing
In computing, we have learnt about connections between computers and networks. Next half-term, we will focus on creating media using stop-motion pictures.
RE
W e will be learning about the stories of Jesus and how he encouraged those around him to change for the better. We will also look at the Easter story.
Key Information:
Spellings:
Words will be investigated and learnt during the daily class lessons. Spelling lists will no longer be sent home.
See below the words children in Year 3/4 should be able to spell by the end of the year: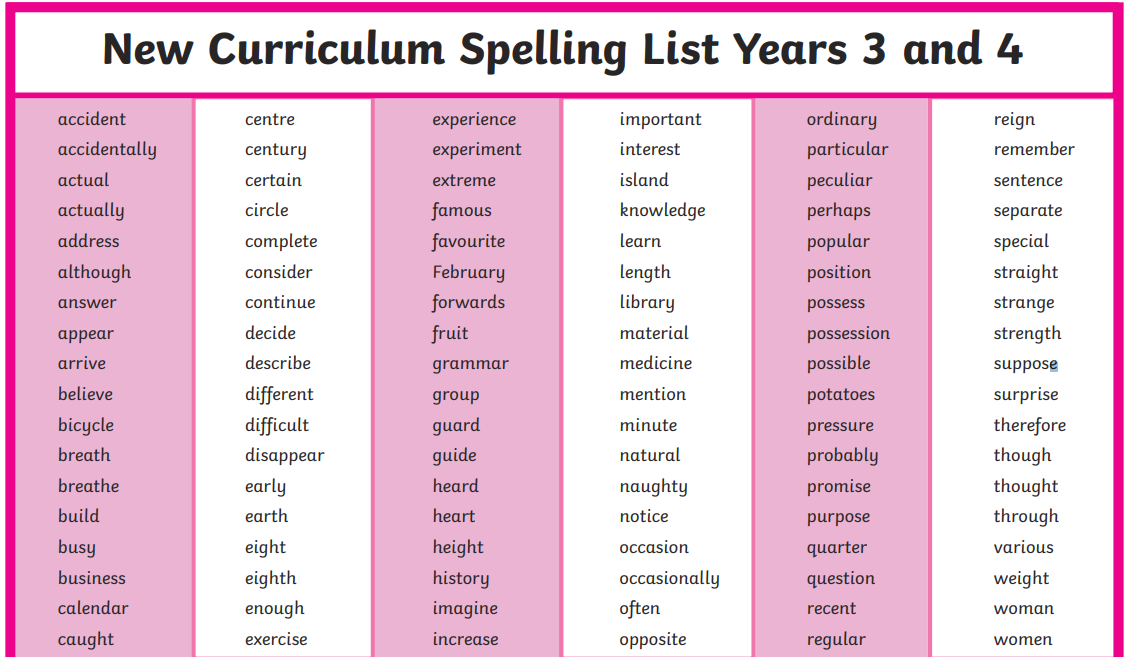 Reading:
Reading books will be given to children on Fridays. Please return them to school by the following Wednesday.
P.E lessons:
Braddock Class have PE every Monday. Please ensure that your child comes to school on Monday in school PE kit with a school jumper over the top if they are cold.
Homework:
Homework will be set every Friday and should be returned to school by the following Wednesday.