"Start by doing what is necessary, then what is possible,
and suddenly you are doing the impossible." (St Francis of Assisi)
Our faith life in Kirkdale, St. Lawrence - we build and create.
Collective Worship
Collective worship is important to us as a church school; we have a variety of acts of worship throughout the school week and details of them can be found within our school collective worship policy.
Faith Life
Here we hope to reflect the key events of our Christian life within school.
We hope to inspire everyone to:
LOVE Jesus and each other
APPRECIATE themselves and the gifts they have been given
ACHIEVE their full potential
Kirkdale, St. Lawrence Primary School has close links with St. Lawrence and St. Paul's Churches. Before the Covid-19 pandemic classes have visited our churches to learn about Baptism, Epiphany, Easter, Eucharist and Christmas. The classes also have the opportunity to visit the Anglican Cathedral in Liverpool for Christingle or Leavers Services and to also attend workshops. Rev. Captain. Mike Griffin and Rev Gill (our school chaplain) work closely with the Junior Chaplains, supporting the planning, deliverance and evaluation of school worship.
Worship is central in the life of the school. The variety in content and leadership styles
supports a vibrant and appealing mix of worship experiences. Christian values, Bible stories
and readings, reflection, prayer, drama, humour and excellent singing all contribute to these
occasions. They deepen spiritual awareness and widen the experience of God for everyone
present. Siams November 2015
WELCOME
When you
Enter our
Loving school
Consider yourself
One of the special
Members of an
Extraordinary community
Service to Others
In our school we always think how we can serve and help others. Older pupils are junior chaplains [J.C.], our Eco-team work to improve our environment and support the wider local and global community and our School Council meet to support leadership and improvement.
Pupils decide on a range of charities to support over he course of a year and plan events for the school.
Some of the charities we previously supported include:
Harvest appeal to support homeless in the area
Remembrance focus we raise funds for the British Legion through the Royal British Legion Poppy Appeal
Comic Relief
Sports Relief
Macmillan Cancer Care Support
Children in Need
Mission Christmas - a Merseyside wide appeal for disadvantaged children at Christmas
Start children off on the way they should go, and even when they are old they will not turn from it. (Proverbs 22:6)
Christmas Time
This year every class has prepared a nativity film which is shared with pupils and parents via Google Classroom - our online remote learning platform.
Jesus is coming, and we want to be ready.
Jesus is coming, and we want to pray.
Jesus is coming, and we want to have fun.
Jesus is coming, and we want to sing.
Jesus is coming, and we want to be ready.
Remembrance Day
The children made their own poppies and planted them in our prayer gardens.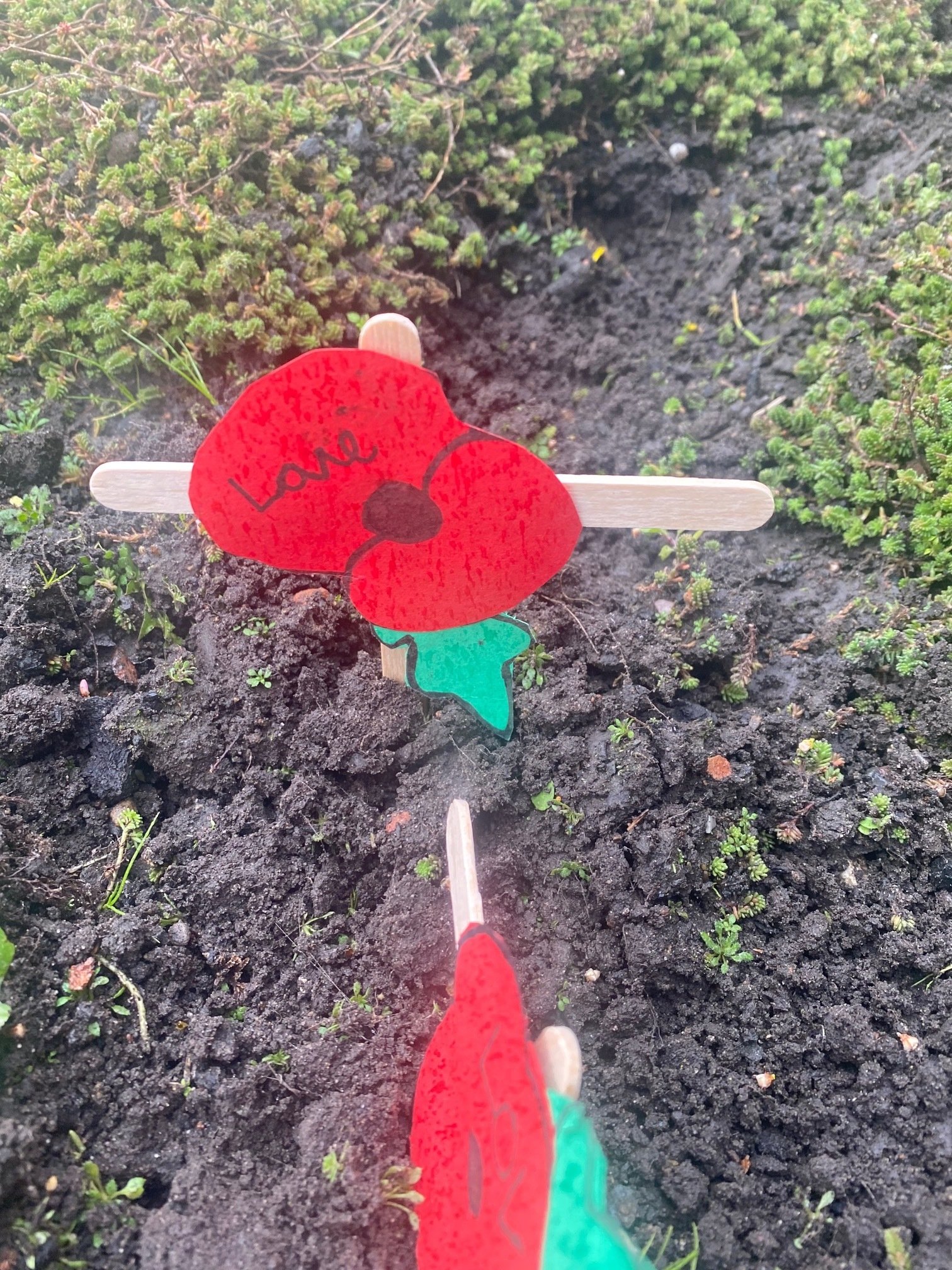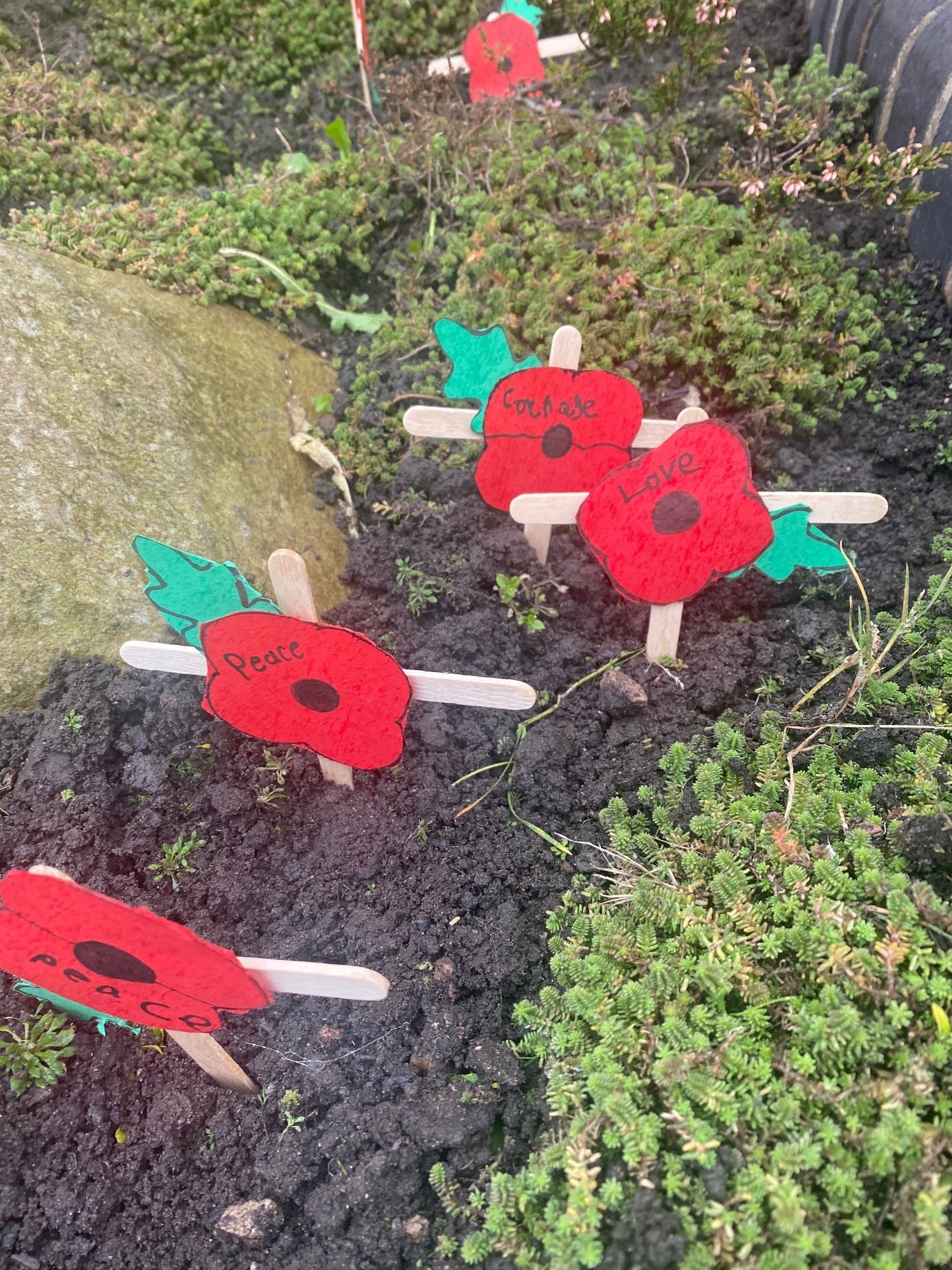 Harvest was a little different this year!
Donations were made by families and the children celebrated with their class, a Harvest service led by Rev Gill Hoy.
Rev Gill worked with the children on a school project for Harvest this year with all classes and the junior chaplains. The theme was 'Scarecrows'.
Harvest is a time for celebrating and giving thanks for all the gifts we have received and scarecrows remind us of farmers, and for us they are a symbol of farms and the countryside.
In the bible, God frequently reminds us of the importance of taking care of those who are in need.
The lovely display of work was created from all of the children's work by Rev Gill Hoy and Mrs Bernie Irwin one of our governors.
Remembrance
November is the month of Remembrance, beginning with remembering all the saints that have gone before us, remembering those who have given their lives in the service of their country and ending the month by celebrating the universal kingship of Christ. The whole school community observes the two minute silence on Remembrance Day.
Classes complete curriculum projects and writing on the theme of Remembrance.
Advent
Advent is a time of waiting. Jesus will come and we believe he will help us to make good choices.
During Advent we prepare for the coming of Jesus.
We share our Advent and Christmas stories in class and we use resources to think about Advent from a different point of view.
Prayer
Lord, bring hope and comfort
to people who don't have a
home this advent.
Give us courage to help
others in practical ways.
Amen
Christmas
We celebrate Jesus' birth. We believe that Jesus is the son of God.
In class and across school we think about how the good news was spread.
CHRISTMAS AND NATIVITY FILMS 2021
We hope you managed to view the Christmas films!
Each class recorded their own Christmas worship or Nativity to share on our secure platform.
We hope that next year - we will share with you in person.
.
Epiphany
The Epiphany is celebrated as the time when the Magi visited the infant Jesus. The word Epiphany comes from the Greek word meaning 'to show forth'; this is the time God revealed himself in human form by giving us Jesus. The story can be found in Matthew's gospel.
News of the birth of Jesus spread far and wide.
A group of wise men travelled from the east to Jerusalem.
When they arrived, they asked everyone, "Where is the child?
Where is the one who has been born King of the Jews? We have seen his star and have come to worship him."
Lent
Beginning on Ash Wednesday, Lent is a season of reflection and preparation before the celebrations of Easter.
By observing the 40 days of Lent, Christians replicate Jesus Christ's sacrifice and withdrawal into the desert for 40 days.
Lent is marked by fasting, both from food and festivities. What have you given up for Lent? OR What are you doing 'extra' for Lent?
In school the children learn about Lent and how Christians observe this solemn, reflective time in the church calendar.
Around school you will find 'Lent Trails' during this special time.
Loving God,
Help us to work together to share what we have, so that everyone has what they need.
Help us to build a better world, where each of us can become the best person we can be.
Help us to live differently during this season of Lent.
Amen
Easter Season
The Easter [also known as Passiontide Story] is performed each year by KS2 children, which tells the story of Jesus' Last Supper with the Disciples, Jesus' relationship with Peter, Judas's betrayal and Pontius Pilate's judgement. The standard is always an amazing and moving experience, which always makes an impact on the whole school community.
Journey into Easter with the children: Imaginor is an organisation which supports spiritual & moral development in schools and we use their resources for some of our school assemblies.
They have produced a free resource for Easter, Reflections through art on the events of Holy Week, which you can find on their website - click below.
Journey into Easter Inspired by paintings from the Ethiopian artist Nebiyu Assefa, this pack offers children and their families new and creative ways to engage with the story of Holy Week and Easter at home.
Easter Garden Competition
Over Holy Week the 'Easter Garden Competition' gives an opportunity for all the children to create a 3D garden that represents Holy Week.
Holy Week as this is an important time of year to share together.
Our pupils and families work at home with their families on their Easter garden design together.
Have a look at the photos of the winning entries! Here is the link See our Easter gardens
Don't forget the gardening club always have 'top tips' for successful gardening.
Easter Prayer Trees
Each class creates special prayers for their prayer tree.
Prayer for us is a way of talking to God.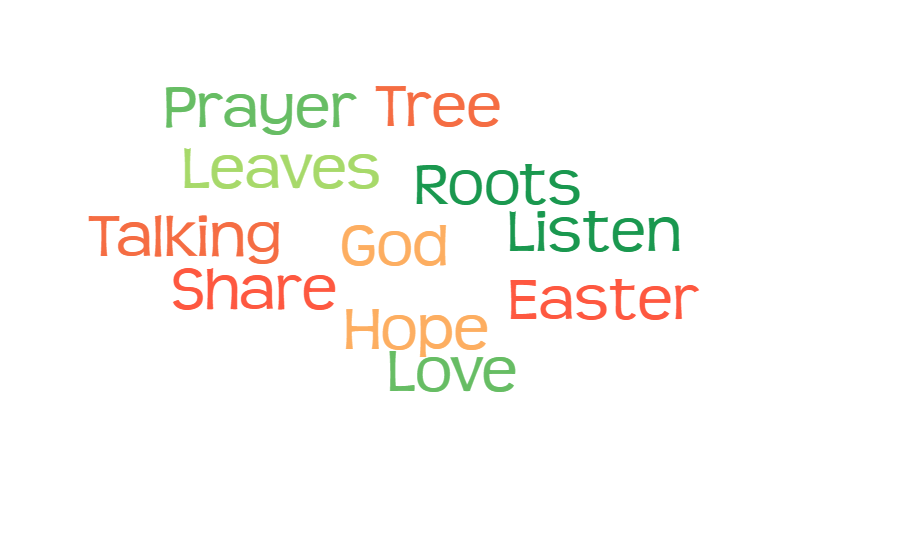 For many people prayer seems to be a complicated thing to do - but it is not! It is simply talking to God.
Ascension Day
We celebrate from Foundation Stage to Year 6 Jesus' leaving his disciples and ascending into heaven. Children write their own prayers on 'dove' symbols. This bible story reflects on wider issues in our international community. Each class choose one prayer and attach it to a white balloon. The balloons will then be released and the children will watch as they fly away into the sky.
The story of the Ascension tells us that during the 40 days after Jesus' resurrection, (being raised from the dead), he appeared to his disciples from time to time. He spoke to them about the kingdom of God.
He told them to stay in Jerusalem and wait for the gift he would send them - that would be the Holy Spirit.
Pentecost
Is celebrated 50 days after Easter Sunday and celebrates when the Holy Spirit came upon the Apostles and other follower's of Jesus.
The Holy Spirit would live in them and guide them.
The Holy Spirit would be a comfort to them.
Jesus wanted them to tell everyone on earth that he had died for them.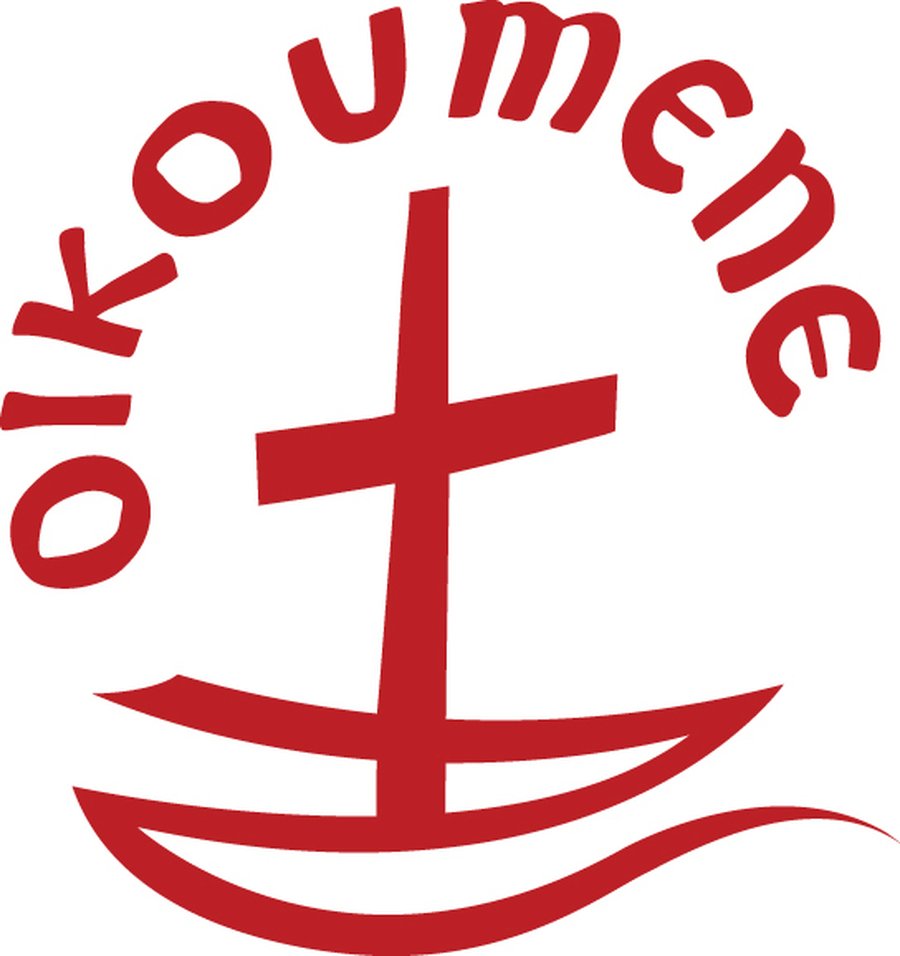 The Ecumenical Prayer Cycle
Below you will find the World Council of Churches' Ecumenical Prayer Cycle. This changes weekly and cycles around the world once a year. The full cycle is laid out on the Ecumenical Prayer Cycle page of the WCC website. They say:
"At the very heart of the ecumenical movement is the reality of prayer. Jesus prayed that we may all be one, united in God."
"The Ecumenical Prayer Cycle enables us to journey in prayer through every region of the world and through every week of the year affirming our solidarity with Christians all over the world, brothers and sisters living in diverse situations, experiencing diverse problems and sharing diverse gifts. Lord, hear our prayer ..."