Music
In Kirkdale St Lawrence all children have the opportunity to sing, to listen to music, to experience different musical instruments, to perform and to enjoy music. Music is a universal language that embodies one of the highest forms of creativity. At Kirkdale St Lawrence, we follow the Charanga Musical School Scheme of Work.
Charanga works seamlessly with the national curriculum ensuring that learners revisit the interrelated dimensions of music: pulse, voice, pitch and rhythm- building upon previous learning and skills. The learning within this Scheme is based on four components: Listening, Singing, Composing and Performing.
Charanga's scheme for the Model Music Curriculum follows a differentiated, spiral approach to musical learning which responds to the national requirements for musical education. Within each unit of learning, students revisit existing knowledge and skills and then build upon and extend them incrementally. In this manner, learning is consolidated and augmented, allowing for increasing musical confidence, while constantly being gently challenged to go further.
Charanga's philosophy of music education is based on the principle that it should be fun and engaging for all concerned, and that every child is a born musician. We believe that music is like magic and that it has a role to play in every aspect of all of our lives, wherever and whoever we are. For this reason, we divide the academic year into six units, each corresponding with one of our six recurring Social Themes, combined with a unique Musical Spotlight.
In Kirkdale St Lawrence we have previously taught from Charanga's Original Scheme of Work, however this year we have now progressed to using Charanga's Music Model Scheme. The second scheme, Charanga's Model Music Curriculum (MMC), builds on and complements the Original Scheme. It was developed in 2021–2022 in response to the Model Music Curriculum: Key Stages 1 to 3 (see document below) the government's non-statutory guidance for the curriculum in England, released in March 2021. Charanga's MMC Scheme broadly follows this model curriculum and provides teachers with activities and resources to support musical learning. In this way, the MMC can be considered an enhanced version of the Original Scheme.
Music Model Curriculum - Charanga Overview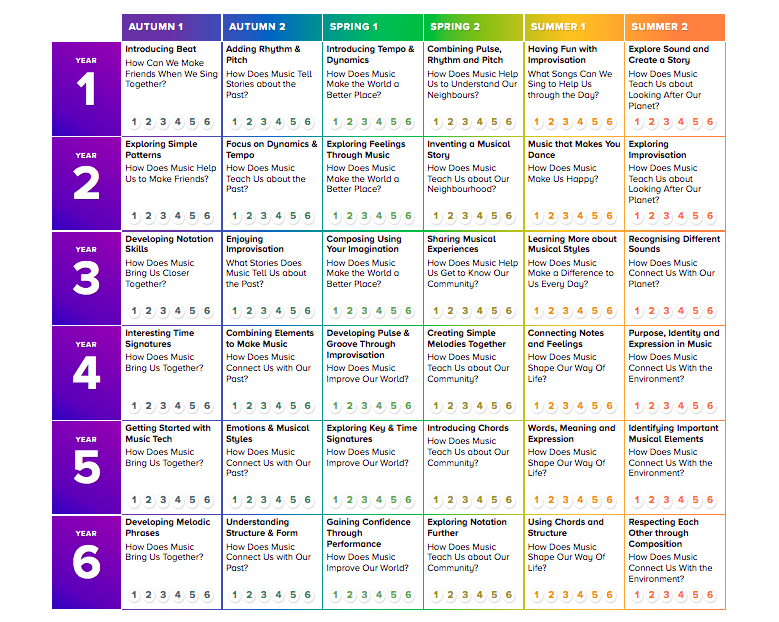 Music and Performing Arts
Pupils have many opportunities in Kirkdale St Lawrence to be immersed in music and performing arts. Some examples are below:
Guitar Tuition - Year 5 and 6
Keyboard Lunch time Club - Mrs Harwick from Resonate
Theatre/Dance Club
Music Club - Ukelele
Visits to watch Liverpool Philharmonic Orchestra perform
Musical Monday Concerts
School trips to the theatre
Pupils participate in singing practise each week, listen to music in Collective worship and experience music in daily lessons through topic work. Music is used to support children's wellbeing through calming and mindfulness activities and is recognised as a valuable tool in our school.
In addition to this, pupils have opportunities to participate in drama, dance and music workshops throughout the school year. These workshops are provided by outside companies, such as Altru Drama and One Day Creative.