PSHE
Personal, social and health and economic education, or PSHE, aims to give children the knowledge, skills and understanding to lead confident, healthy and independent lives.
At Kirkdale St Lawrence, we know how important the social-emotional development of our children is in order to prepare them for life in the modern world. Our aim is for our pupils to become emotionally resilient, aware of global issues and become tolerant, kind and accepting young adults.
The skills and attributes acquired through PSHE have been shown through numerous studies to positively impact children's life chances, their academic success and their own mental health and wellbeing. Through high-quality teaching of PSHE, we ensure that our pupils are given the best support to flourish.
PSHE is delivered by class teachers using the Jigsaw scheme of work. This is a whole-school programme that teaches children about emotional literacy, social and lifelong skills, RSE/RSHE and resilience in an age-appropriate manner.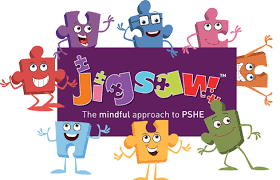 The six Jigsaw Puzzles (half-termly units) are designed so the whole school can study the same learning themes at the same time, each year group at its own level. The pupils build on their depth of knowledge, understanding and skills as they progress through primary school.